Cabin Trip to the Upper Peninsula
Brian and I headed up the Upper Pensinsula for our one year anniversary, from October 17 through the 22. It was heaven; just like has been every other time, but this time we were completely relaxed. Orginally, I had packed our itinerary full of hiking, sightseeing, etc. but once we crossed the bridge none of that seemed to matter. My new outlook was that we were going to spend the next four days going by the seat of our pants. If we slept in till noon, great! If we felt like going for a cruise, then we would make it up as we go. It was going to be guilt free relaxation! And that is just what we did; and it felt MARVELOUS! Shhhh...don't tell anyone, but on one of the days I even ended up taking a three hour mid-afternoon nap.
Anyways, getting back on track... :) We stayed at the Nieboer's cabin which is close to Munsing in a town, well maybe village, okay it really just has a tiny gas station/store which doesn't even sell gas anymore, called Melstrand. The Nieboer's are wonderful friends of Brian's parents and have a son Brian's age. As long as you leave the cabin as you found it, fill the gas tanks up and restack the wood pile you are free to stay there. Thank you Nieboers!
The cabin itself is very rustic and located literally in the middle of nowhere; it is only accessible via snowmobile in the winter. Thankfully cold water is available through a hose that we use to fill up larger buckets which then must be heated on the wood stove. At least I could still wash my hair...oh and dishes. Propane runs the fridge, stove and gas lights. Generator outside in the shed powers the front porch light. Bunkbeds are your sleeping quarters and a woodstove provides your heat. Sadly though, the only source of a bathroom is the outhouse located about 15 yards away from the cabin. Normally, fine, I can do rustic for a few days, but having to visit the outhouse in the pitch black of night, I am not fan of. And let me tell you, it gets dark. Like can't see your hand in front of your face dark. And yes, the porch light does help out a little, but you can't keep that on all night and it doesn't shine out very far. Moose and bears have been seen by the cabin and cougars have been in the area so knowing that those animals could be hiding in the dark shadows outside of the cabin doors makes me very nervous. Daytime, fine. Nightime, not so fine. So when Brian and I had to go outside at night, and trust me that wasn't very often, we would peak outside the door for about 10 minutes scanning the woods with our flashlights, run outside, do whatever we needed to do, and run back inside. Trust me, we were probably a sight to see, but it worked.
So here it is....Nieboer's cabin, all rustic and cute. And notice the ever-so-close woods next to the cabin; now you get why I didn't want to go outside in the dark. :)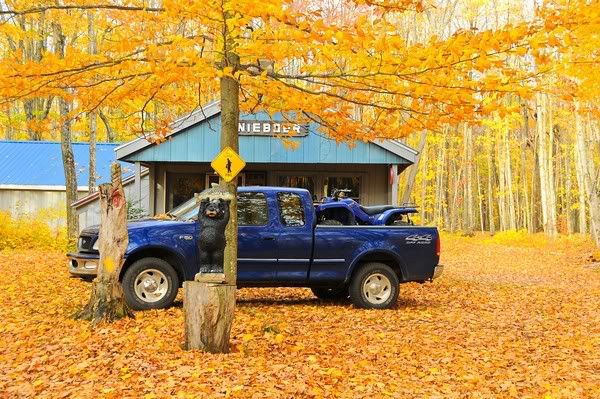 ...and the details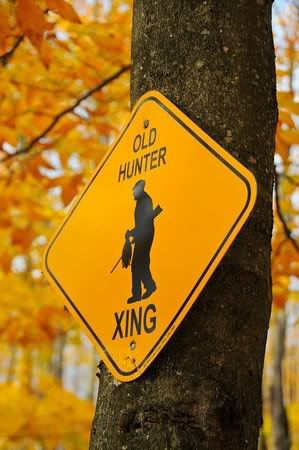 He wasn't into the whole smiling thing...
But I was...
On Saturday we hiked back to Miners Falls; it is a fairly flat 1.2 mile out and back path which makes it easy for anyone to do. I highly suggest this to anyone who visits this area. The waterfall itself is massive and cascades beautifully off the edge.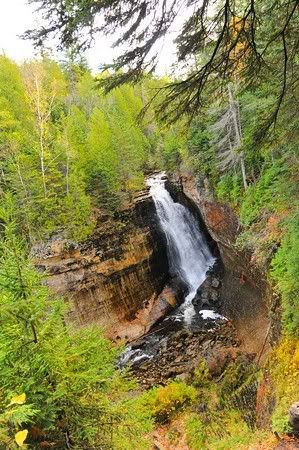 Of course Brian and I couldn't resist getting closer for a better look. I still can't believe I let a total stranger hold my camera to get a picture of us while we climbed down; thank goodness he didn't run off with it.
I almost blend right in...
Miners River flows from the waterfall a few miles away to Miners Lake.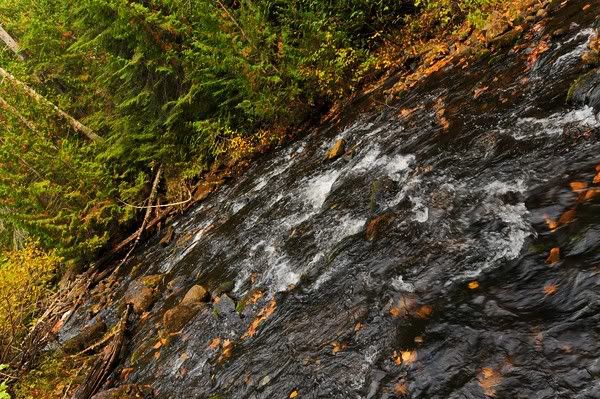 Brian and I decided to keep up with the whole "Miners" thing and headed over to Miners Castle. This may be one of the most photographed and well known sites of the Upper Peninsula, but it still takes my breath away.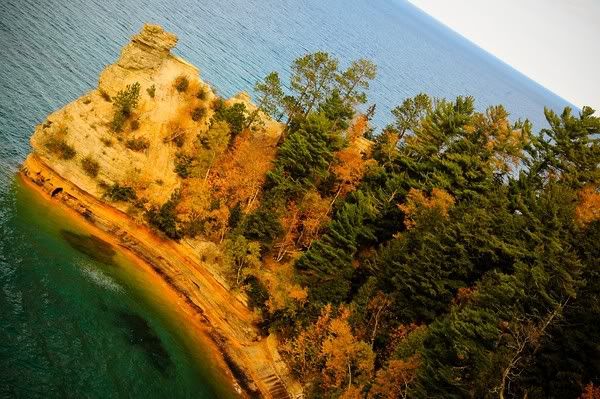 Could the water be any more amazing and clear? I couldn't help but take a picture. See the stone underneath the surface?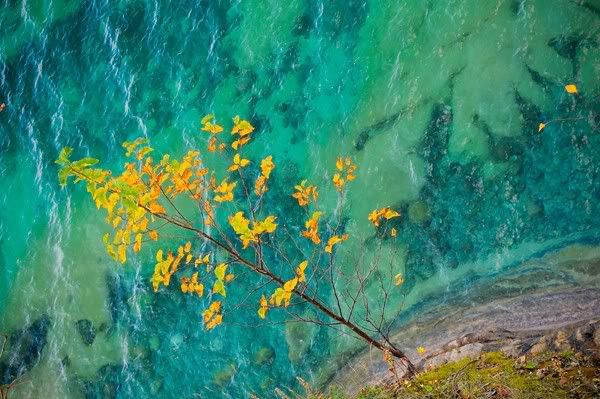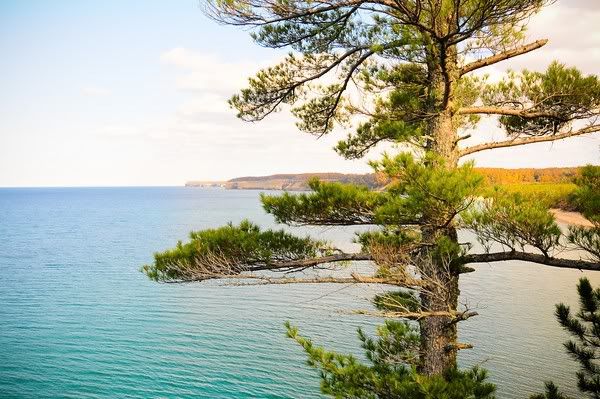 The sun and clouds were unbelievable that day...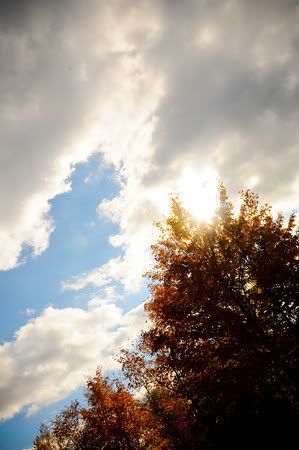 Munising Falls draws me in because of its simplicity. This falls is so quiet you could almost stumble in if the railing didn't stop you.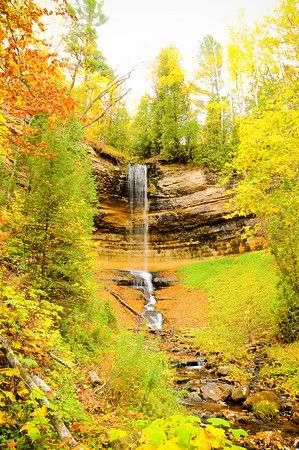 Oh my goodness...a smile. I must be doing something right!
Our stranger friend told us to check out where the old coast guard station used to be. It is right on Munising Bay as you head out into the Great Lake Superior. Hidden gem is all I have to say!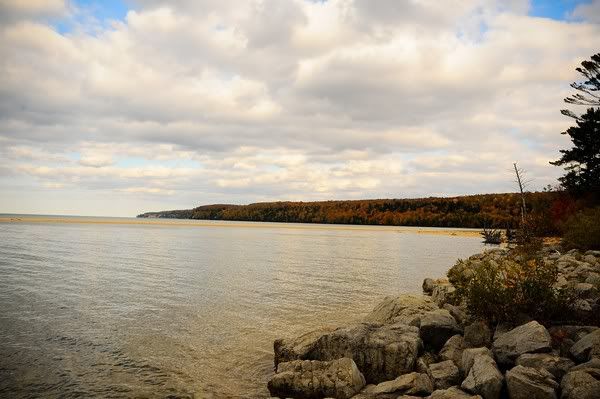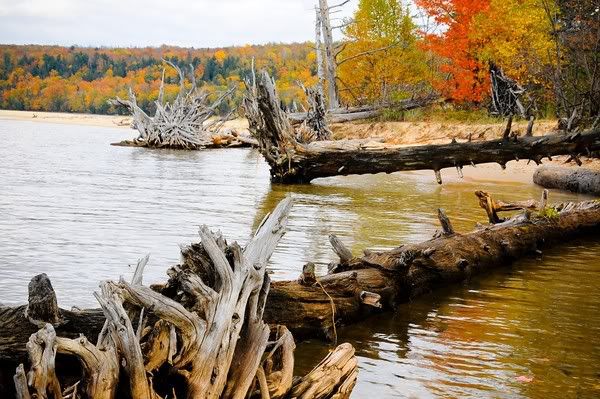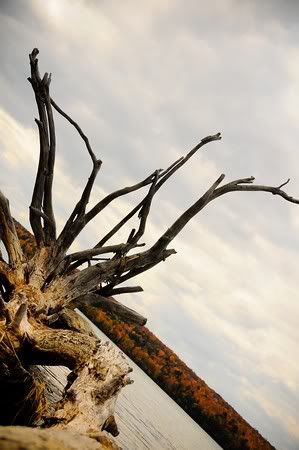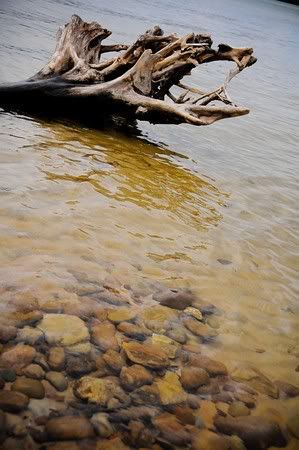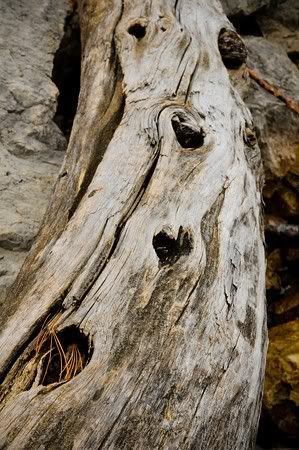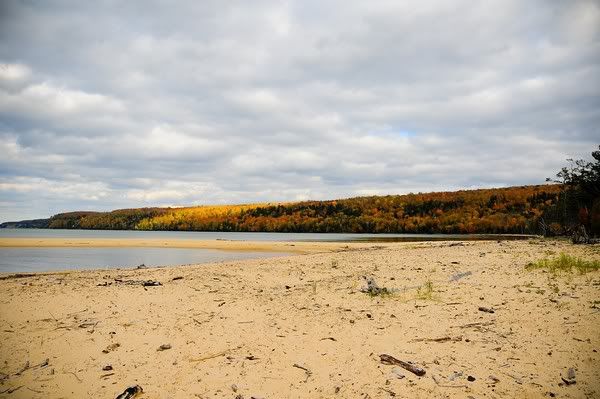 That evening Brian and I headed out on the gator over to the lookout. The lookout is just that; you look out over Beaver Basin and in the far distance you see Lake Superior. Brian thinks it would be great fun to blaze trail and hike from the lookout to Lake Superior. And even though I like to be all rugged and adventurous, I think that may be past my limits. That is uncharted territory and who knows what creatures are wandering around down there. One neat fact about Nieboers cabin is that the land surrounding their cabin is now part of the Pictured Rocks National Lakeshore. So what does this mean? Peace and quiet for the cabin, no possibility of future developments and neat two tracks that lead to places like this!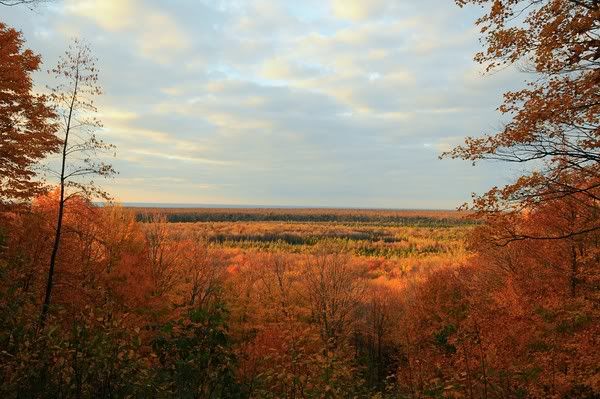 The forecast for Sunday was calling for scattered showers throughout the day so we decided to stick close to the cabin. First things first...morning coffee! But we had to do coffee UP style, so after using a percolator on the stove we poured our coffee and headed out on the gator for a morning cruise. Brian and I have different opinions about cruising; when I say cruising, I mean slow and relaxing. Brian means punch it and go rip snorting through the trails. We shared words :) and came to an agreement somewhere in between.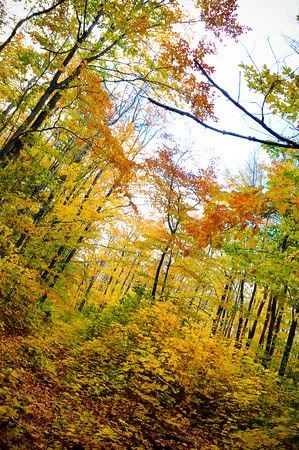 See, I told you we are in the middle of nowhere...
While the skys were clear we headed out in the truck to see what we could find.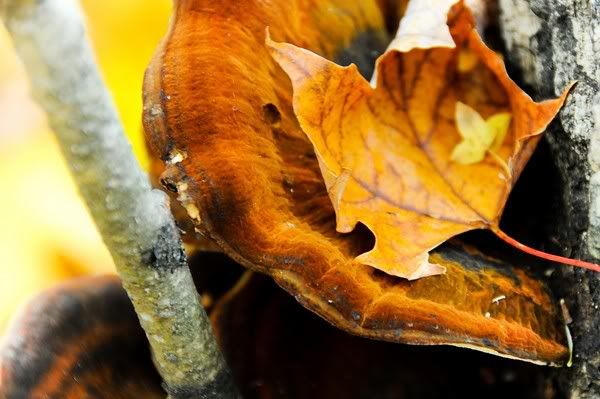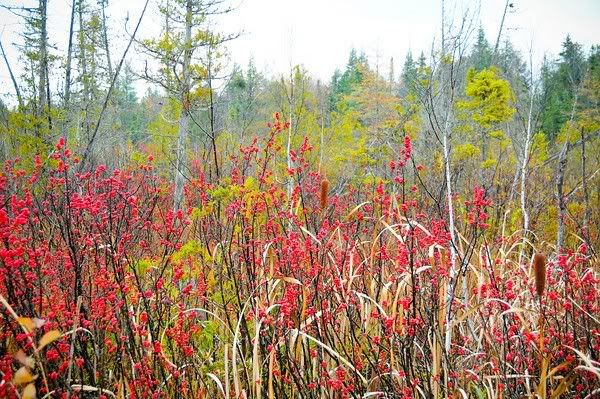 so the UP fashion...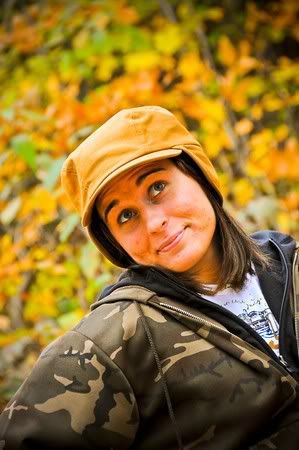 an old fire tower...
Brian had his heart set on fishing so Monday morning we packed up the gator and headed out. Another family friend, Charlie, has a piece on property on a small private lake. I believe the proper name is Fawn Lake, but I have only heard it referenced as "Charlie's Lake"; so that is what we will go with. The thing I love about Charlies Lake is that it is like a picture out of a movie. The lake is perfect; the trees are perfect; everything about it is perfect. Charlie is very lucky to have such a beautiful place to build a cabin. And we are lucky to have such a nice lake to fish on. :)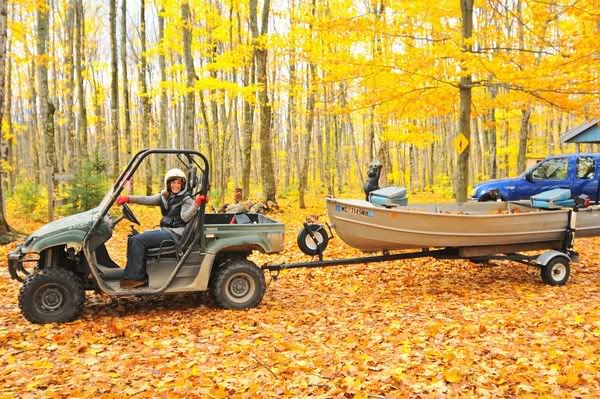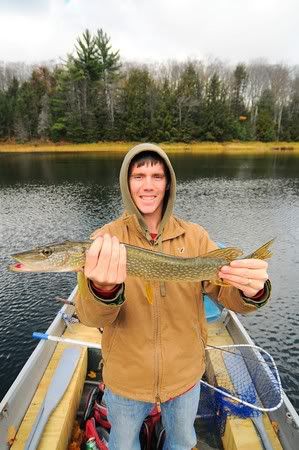 I love him...
On our last night in the Upper Peninsula and since it was our actual anniversary we decided to head into town for a nice dinner. The wind had really picked up and as we drove into Munising I noticed Lake Superior was starting to change. What had been calm before was tossing and turning. We made a turn to Miners Beach to catch some of the action. I started snapping away on the main part of the beach but Brian persuaded me to cross the little channel of water and get up on the cliffs. I don't think he wanted me venturing out on the cliff as far as I did, but I couldn't resist. In a matter of minutes the waves really started to swirl and I decided it probably wasn't the best idea either. I snapped a few more shots, heck I was already out there and then headed back. Even crossing the channel back proved challenging as the waves were now going over top of the log. Once safely to the other side, we both agreed next time to think things through before going out on a limb, literally to get the best shot.