Our little family
dog (noun) a domestic carnivorous animal with a long muzzle, a fur coat, and a long fur-covered tail, whose characteristic call is a bark. Latin name: Canis familiaris
Our dogs are such a big part of our lives. They are great company, feet warmers, toes lickers, motivation for excercise, comedy shows and wonderful companions. And with Brian currently working third shift, they give me piece of mind at night. Not that long ago if you would have told me that we would be parents to three dogs, I would have laughed and said "yeah, okay". Who is laughing now? But I wouldn't change anything. Our dogs have become members of our family; I couldn't imagine our lives without them. Don't get me wrong, there have been times when I ask myself, "why oh why...three dogs...this is crazy" but when they make you smile or make you laugh it reminds me why.
So you may be asking, how does one acquire such a large furry family. Let me enlighten you. Meet Kahne, our golden retriever. My stepmother and I had picked Kahne out when he was just eight weeks old. She loved golden retrievers and had always wanted one. Sadly, a few short months later she unexpectedly passed away. When I moved out, Kahne came with me. You could say he holds a special part of my heart and reminds me of her every time I look at him. According to Brian, Kahne is my dog; he thinks I am Kahne's favorite. :) They say golden's are loyal and smart and with this I must agree. He loves running out in the woods, swimming in Lake Michigan and just being your best friend. He will always be my first "baby".
Brian and I felt guilty when Kahne was home by himself and wanted to get him a friend. And so came Emmy. Emmy is your typical lab mix who sometimes doesn't seem to have all of her ducks in a row. We met Emmy at a local animal shelter and instantly fell in love; she was only five months and still had that puppy cuteness. She had been brought into the shelter after being hit by a car. They saved her back leg but her paw is flat as a pancake and a bit deformed. Adoping Emmy meant an unknown future with her "bumb wheel" but we couldn't imagine our lives without her. To our suprise, she seems to function just fine and has had minimal problems. She has found a special place in our hearts.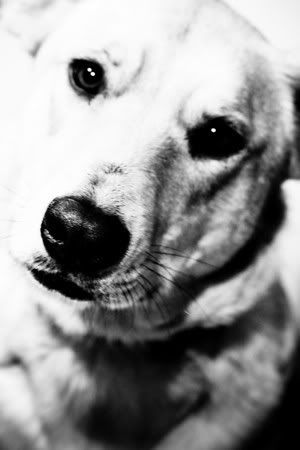 Then there is Dillon. Dillon came to us a little over a year ago. Some of you may remember Dillon, he was featured on WZZM as the dog that was away from home for a little over two years. The Kent County animal shelter picked him up and because he had a micro chip was returned back to his owners. Within a few weeks after his story aired the owners did not want him anymore. The owners had asked our neighbor to take him and give him away at a local auction where people will bring "free" animals. Of course, my heart went out to him and we decided to give him a forever home. Dillon, also referred to as the "Dillman" "Little Man" and "Dillon five-o", is one of most unique beagles I have known. He hates the outdoors but instead loves the anything that is soft, warm and comfortable. The couch seems to be his object of choice and since we do not let our dogs on the couch I am constantly shooing him off. (the below picture was an exception) We have a fenced in backyard which is wonderful for the dogs; however even when we let them all loose, Dillon doesn't take off. He is perfectly content roaming the yard and sticking close. He must love his new home as much as we love him. :)