Crystal Mountain take II
This past Saturday Brian and I headed back up to Crystal Mountain for another day of skiing. We stopped for breakfast at this little mom and pop resturant. Yums! :) Apparently, word was spreading because there were only a few empty tables to choose from. I must admit, I was on pancake overload when we left and Brian found me napping the rest of the way to the Mountain (I am a horrible passenger).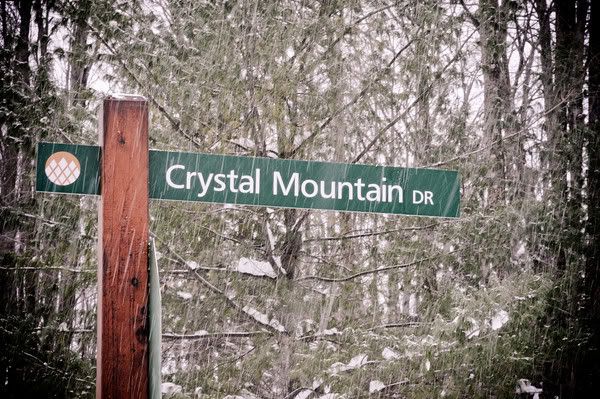 While the conditions were overcast with occasional snow showers, the day was still totally worth it; Crystal Mountain had received fresh powder the night before. Cabin fever must be setting in for some people, because the Mountain was pretty busy. One thing that mesmerizes both Brian and I are all of the little kiddos on skis and just how good they are. Totally jealous! Mom and dad must seriously strap on the skis as soon as walking age approaches.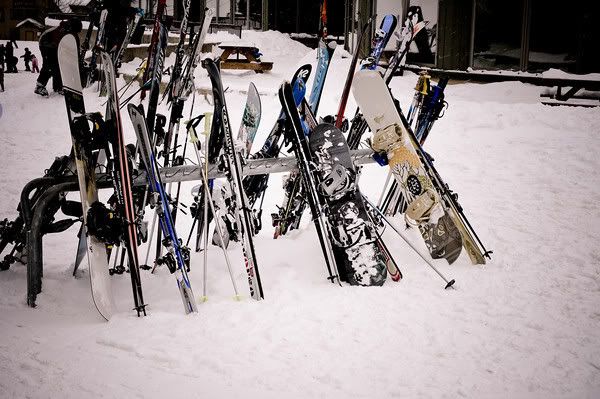 While there were no broken bones had that day, Brian and I each took our turn at a tumble. And since I am the one telling the story...it can go anyway I want...hmmm. Just kidding ;) no lies here. Mine was first; and while I wish it was impressive and daring, it's not. You may actually let out a small giggle, I did. One sentence sums it up; I was to big for my britches. See last time we skied I took the safe road; and with my bad knee, it should probably be the only road I ever take. However, this Saturday I convinced myself (thanks to the winter X games) that I needed go a little bigger. So I started taking paths that were carved through the trees. Not so bad. Then I tried a couple moguls. Still not so bad. Then, I decided to combine the two; eh, not so good. The path jetted out from the trees, dropped down a few feet and then curved hard to the right. What I failed to notice was the little mound of snow waiting for me at the bottom of the drop. That little mound threw off my balance and made curving to the right...well lets face it...I didn't exactly end up curving to the right. Down I went. My skis never popped off so there I was face down in the snow and legs tangled together. Yeah, kinda embarrassing. Brian's tumble, in his words "outscored mine". We were headed down one of the back hills and he was getting the whole "swish swish" things down with his skis; he was going at a pretty good clip. A fellow skier, who was following to close in my mind, clipped the back half of his skis sending him spiraling down into the snow. Total wipeout. He lost his skis, his poles, his hat and his goggles. And of course, up he pops, like nothing ever happened.
Tumbling aside, the day proved to be another amazing day on the slopes. Just like before, the sun popped out a bit before dusk; creating beautiful views atop the chairlift. It was a great day to spend in northern Michigan.