Upper Peninsula ~Marquette, MI ~ February 19-22, 2009
There is something about traveling north that just makes you want to lose yourself in nature. Could it be the quiet stillness, the stunning views or of how life just seems more relaxed? When Brian and I cross the big bridge it is a feeling that cannot be explained by words. Winter in the UP, while equally beautiful, can sometimes prove to be a bit challenging. Some call it unending. Storms seem to blow in without warning, leaving inches and sometimes feet of snow. Brian and I were able to experience some of this first during our stay.
As much as I love the UP, I dread crossing the Mackinac Bridge. It scares me, makes my palms sweaty and my armpits tingle. The heights, the wind and the grates. Normally, I close my eyes, hum to myself and wait to hear the voice of the toll booth operator collecting our fare. This time however, I thought I would try something new. So out popped my camera and I started clicking away.
Soon after crossing the bridge and starting onto US-2 we quickly found out just how fast changing the weather could be.
Friday, Brian and I awoke to a gorgeous sunrise and agreed to take advantage of the beautiful day. Kaytee, our friend and host, had put together a list of possible ideas while in Marquette. We decided to check out Black River Falls on our snowshoes. Only a five minute outside of town, these falls prove amazing. A well worn trail through the woods leads to an opening in the trees where the falls and the river flows. We decided to keep heading up river to see what else we could find; and boy was it ever worth it. Waterfalls after waterfalls make up this section of the river. The refreshing sound of falling water proved "some good therapy" for the day.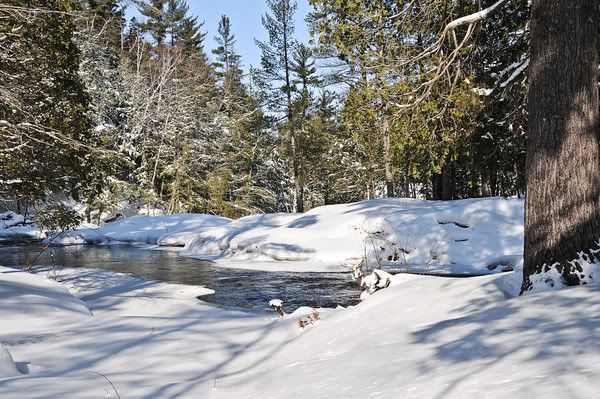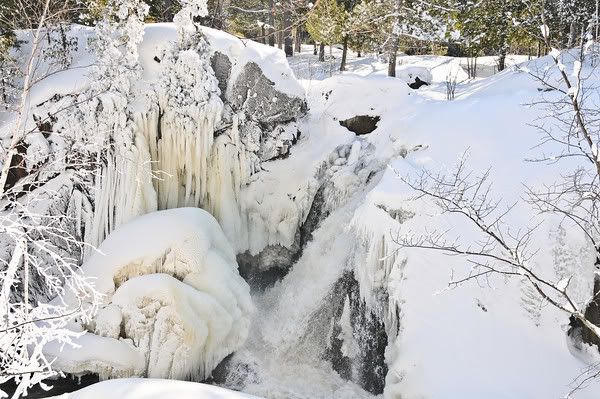 We even saw some animals along the way.
Next stop, Sugarloaf. The hike up Sugarloaf itself is fairly short and easy, well worth experincing while in Marquette. Sugarloaf provides incredible spectacular views of Marquette and Lake Superior. Many patches of flat rock are provide an excellent sitting spot to just enjoy the view. We could have spent all day up there.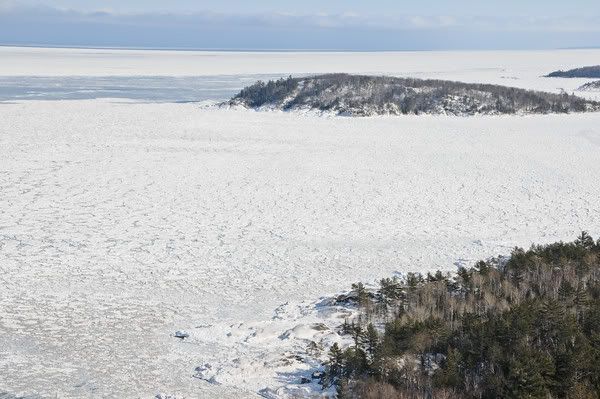 Cheese ;)
Friday night, was the start of the UP 200. This 240 mile sled dog race begins and ends in Marquette. We headed downtown to participate in the action. Family and friends alike, young and old gathered around Washington Street waiting for the races to start. The atmosphere was filled with laughter, cheers and stories of past races. Seeing the mushers prepare their dogs and sleds, made me wonder what was going through their minds. The dogs yipped with aniticipation. This was a celebration I was truly proud to have been part of.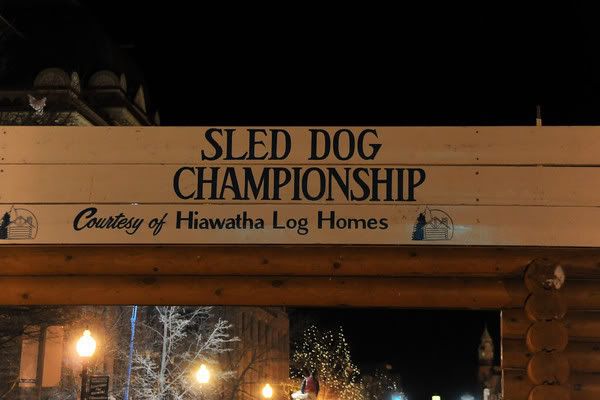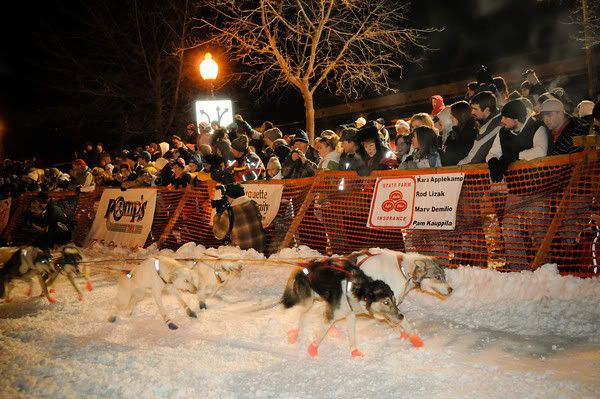 Sunday morning we left Marquette to sun. We turned onto M28 and ran into blizzard conditions soon thereafter. We slowed down to about 5 mph and crept along using the snowbanks as a guide. Thankfully, we arrived in Munising safely. We learned, soon after we made it through, they shut M28 down. It remained closed for much of that day.